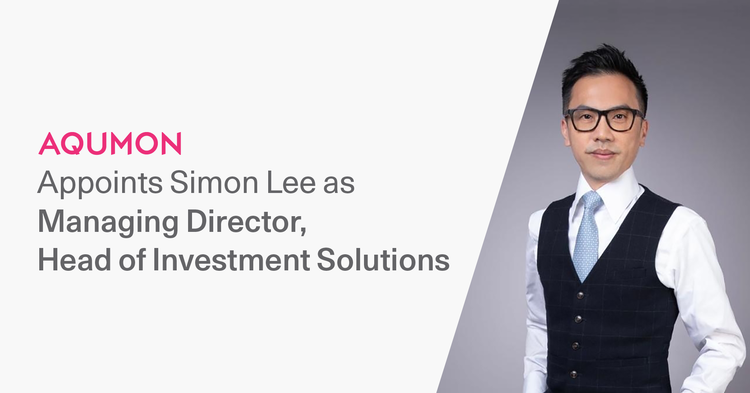 AQUMON appoints Simon Lee as MD Head of Investment Solutions
Written by AQUMON Team on 2022-06-15
AQUMON, Asia's leading FinTech company, announces the appointment of Simon Lee to the role of Managing Director, Head of Investment Solutions - effective Q2 of 2022.
Simon steps into AQUMON to lead the Investment Solutions department in management, production and distribution of the company's AI-powered investment solutions.
Simon brings over two decades of institutional asset management expertise with a strong focus on China and European markets. He joins from IMX Shanghai, where he was Head of Investment & Capital Markets, responsible for its long-term investment strategies in China & abroad. Prior to IMX, Simon was Head of Institutional Business at CSOP Asset Management, covering institutional & family office clients in both Europe & Hong Kong. Previously, Simon was Bloomberg's ETF Specialist in Northern Asia focusing on collaboration with Chinese asset managers on a global basis. Simon graduated from UCLA majoring in Business Economics.
Kelvin Lei, CEO & Co-Founder of AQUMON, commented on the appointment, "We are pleased to welcome Simon to the team. His extensive experience in asset management and expertise in global capital markets will be a tremendous asset to AQUMON as we continue to build out our multi-strategy investment solutions and consolidate our position as the leading AI-powered investment company."
The move is part of AQUMON's strategic expansion into institutionalized investment advisory services, as it develops new offerings for EAMs, asset managers and family offices.
About us
AQUMON is a leading financial technology company based in Hong Kong. Our mission is to leverage technology to make next-generation investment services smarter, simpler, and more accessible to investors. Through proprietary algorithms and scalable, technical infrastructure, AQUMON empowers anyone to invest and maximise their returns. AQUMON was rated by KPMG as China's Top 50 Fintech companies and has partnered with over 150 financial institutions including AIA, China Merchants Wing Lung Bank, Bank of China International, China Resources Bank, CITIC Securities, ICBC (Asia), etc. AQUMON is developed by Magnum Research Limited which is licensed by the Securities and Futures Commission of Hong Kong to carry on Type 1 (dealing in securities), Type 4 (advising on securities), and Type 9 (asset management) regulated activities.