What is ESG investing? The Ultimate Guide for Beginners
Written by AQUMON Team on 2021-06-04
We're halfway through 2021, and you've probably swapped out plastic straws for bamboo straws, or have been wearing cloth masks in lieu of their disposable counterparts. As the 'green economy' becomes an increasingly salient part of everyday life, you'll want your investments to follow the same principles. That's where the concept of ESG Investing comes into the picture.
What is ESG Investing?
ESG stands for Environmental, Social and Corporate Governance. This kind of investing puts your money to work in ways that promote sustainability. Areas that fall under the ESG umbrella include:
A company that has outstanding performance in one or more of these three aspects is said to be a strong ESG company. As a result, these firms would typically receive high ESG ratings by third-party firms such as Refinitiv.
So what's incentivising companies, both large and small, to promote social and environmental development? The main driver is the belief that doing so would lead to positive financial performance, but also long-term benefits to the world. For socially conscious investors on the retail level, practicing ESG investing has become synonymous with investing in sustainability itself whilst anticipating a positive payoff in the end.
But let's explore the financial performance of ESG companies a bit more; just how profitable are these investments? Financial literature and research has frequently shown that investing in an ESG company does in fact lead to better investment returns. Is this really the case?
Worldwide, there are several indices that measure the financial performance of strong ESG firms, with the MSCI World ESG Leaders Index being one of the most popular. When comparing this ESG index with the general MSCI large-cap index, ESG returns have consistently been higher in the past one, three, and five years.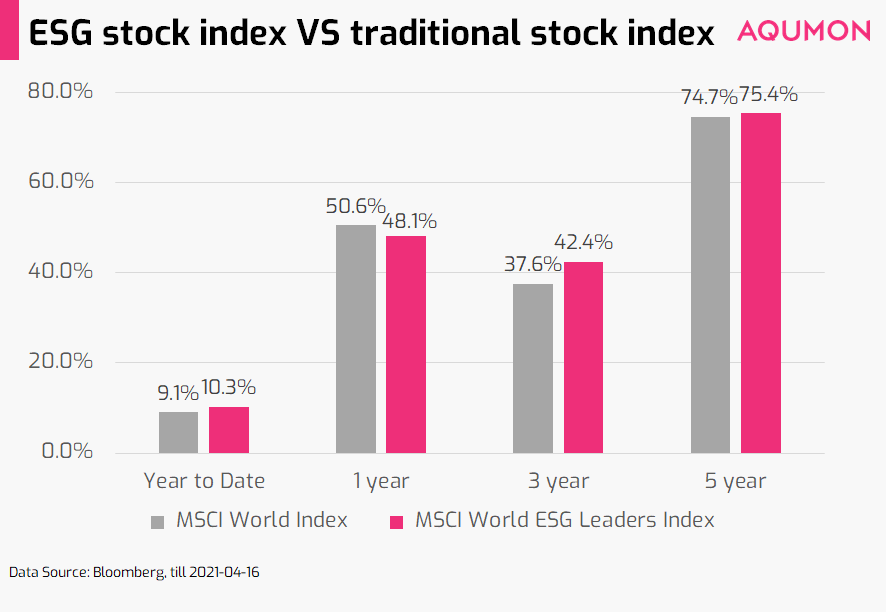 However, a stellar ESG report card shouldn't be the only determining factor for what stocks to purchase; other technical and fundamental factors have to be considered too. Instead of simply investing in companies with high ESG scores, it is important to also use other factors to inform your investment decisions.
AQUMON's newly released ESG portfolio 'A Better World' does just that. To construct this portfolio, we've analysed ESG scores in tandem with other industry-standard financial factors such as R&D strength, profitability, and so on. To establish 'A Better World' as the ideal ESG portfolio to invest in, AQUMON has also excluded firms that operate in industries such as tobacco, non-renewable energy, and national defense.
According to our backtest results, the annualised return of this portfolio (in the past five years) went is as high as 18.37%, exceeding the S&P500 index by 4.34%! (Backtest period from 2016-04-1 to 2021-03-31).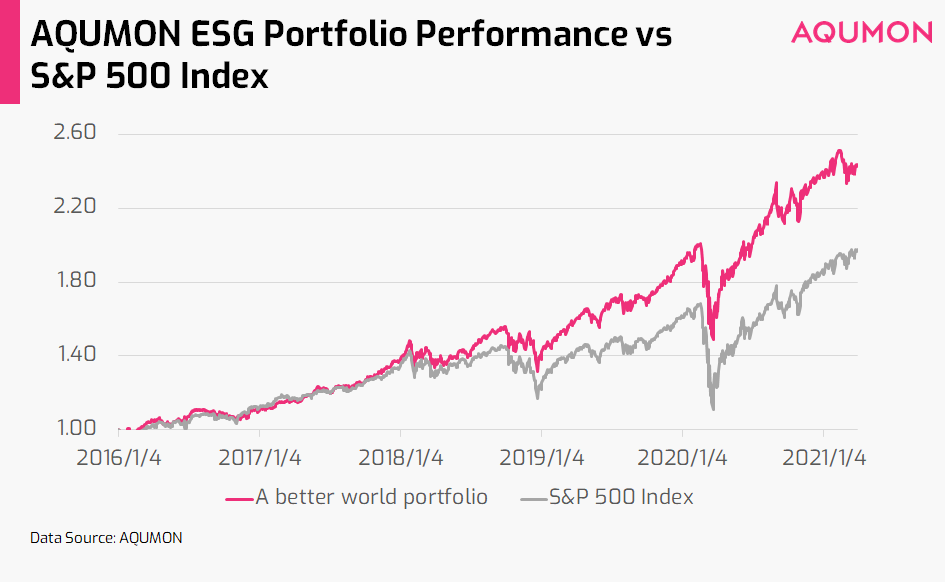 Why do companies with good ESG scores have, on average, stock prices that perform better? There are three reasons:
1. Strong research and development capabilities
Companies with outstanding ESG scores are typically high-tech companies with innovative technologies. Microsoft, being the largest software provider globally, advocates the concept of paperless office by switching to online collaboration tools. Amazon, as a renowned technology company and e-commerce platform, promotes the development of digitalization. Furthermore, the COVID-19 pandemic has brought great attention to major ESG investments such as mobile payments, driverless vehicles, and online electronic technologies with strong investment performance.
2. Tighter regulations and social-responsibility dividends
On January 1, 2016, the Hong Kong Stock Exchange released new ESG reporting guidelines with stricter disclosure requirements.
In Mainland China, the Chinese government has issued a series of strategies and policies promoting the development of ESG, such as putting forth the goal of carbon neutrality by 2060. Furthermore, the government has strongly encouraged the development of clean-energy enterprises by putting forth a 'green transition' mandate.
In the USA, the Biden administration has proposed to achieve net zero emissions by 2050 by developing a 100% clean energy economy. Strategies to reach this goal include investing US$2 trillion in the next four years to support green industries (renewable energies and electric vehicles) and reducing nationwide reliance on fossil fuels.
With the financial and political support of governments, companies operating in ESG industries will achieve better development, and thus higher share prices.
3. Ignoring ESG concerns reduces a firm's resilience to adverse market events
Companies that contribute to environmental protection or public welfare develop not only gain substantial goodwill from investors, but also display greater resilience to adverse market events. On the flipside, companies that do not do so typically respond poorer to negative economic shocks. A recent report by HSBC showed that firms with strong focuses on ESG development were more resilient to the economic impact of COVID-19 than those without these focuses.
How to catch the ESG investing trend?
There are multiple index companies announcing ESG indexes to provide references on the stocks' demand and potential. However, investors cannot directly invest in the ESG index and here are three common ESG investing options.
1. ESG Mutual Funds
2. ESG Investing ETFs (Tracking the ESG index)
3. Individual stocks with high ESG Score
So now that we've covered the basics of ESG investing, try out our 'A Better World' portfolio to invest in social change at the low price of USD1,000. We've selected 30 stocks with high-quality ESG performance to bring you a simple and affordable way to invest responsibility.
Compared to investing in individual stocks, portfolio investing promotes risk diversification, optimizing returns and volatility; When compared to funds, smart investing using big data and proprietary algorithms helps investors achieve their investment goals at a lower cost; When compared to ETF investing, the portfolio is managed by AQUMON's professional analytics team according to the most up-to-date market situation for better investment yield.
Click here to create social impacts with us!
About us
AQUMON is a Hong Kong based award-winning financial technology company. Our mission is to leverage smart technology to make next-generation investment services affordable, transparent and accessible to both institutional clients and the general public. Through its proprietary algorithms and scalable, technical infrastructure, AQUMON's automated platform empowers anyone to invest and maximise their returns. AQUMON has partnered with more than 100 financial institutions in Hong Kong and beyond, including AIA, CMB Wing Lung Bank, ChinaAMC, and Guangzhou Rural Commercial Bank. Hong Kong University of Science and Technology, the Alibaba Entrepreneurs Fund, affiliate of BOC International Holdings Limited, Zheng He Capital Management and Cyberport are among AQUMON's investors.
The brand is held under Magnum Research Limited and is licensed with Type 1, 4 and 9 under the Securities and Futures Commission (SFC) of Hong Kong. AQUMON is also licensed by the U.S. Securities and Exchange Commission (SEC) and the Asset Management Association of China (AMAC).
Disclaimer
Viewers should note that the views and opinions expressed in this material do not necessarily represent those of Magnum Research Group and its founders and employees. Magnum Research Group does not provide any representation or warranty, whether express or implied in the material, in relation to the accuracy, completeness or reliability of the information contained herein nor is it intended to be a complete statement or summary of the financial markets or developments referred to in this material. This material is presented solely for informational and educational purposes and has not been prepared with regard to the specific investment objectives, financial situation or particular needs of any specific recipient. Viewers should not construe the contents of this material as legal, tax, accounting, regulatory or other specialist of technical advice or services or investment advice or a personal recommendation. It should not be regarded by viewers as a substitute for the exercise of their own judgement. Viewers should always seek expert advice to aid decision on whether or not to use the product presented in the marketing material. This material does not constitute a solicitation, offer, or invitation to any person to invest in the intellectual property products of Magnum Research Group, nor does it constitute a solicitation, offer, or invitation to any person who resides in the jurisdiction where the local securities law prohibits such offer. Investment involves risk. The value of investments and its returns may go up and down and cannot be guaranteed. Investors may not be able to recover the original investment amount. Changes in exchange rates may also result in an increase or decrease in the value of investments. Any investment performance information presented is for demonstration purposes only and is no indication of future returns. Any opinions expressed in this material may differ or be contrary to opinions expressed by other business areas or groups of Magnum Research Limited and has not been updated. Neither Magnum Research Limited nor any of its founders, directors, officers, employees or agents accepts any liability for any loss or damage arising out of the use of all or any part of this material or reliance upon any information contained herein.