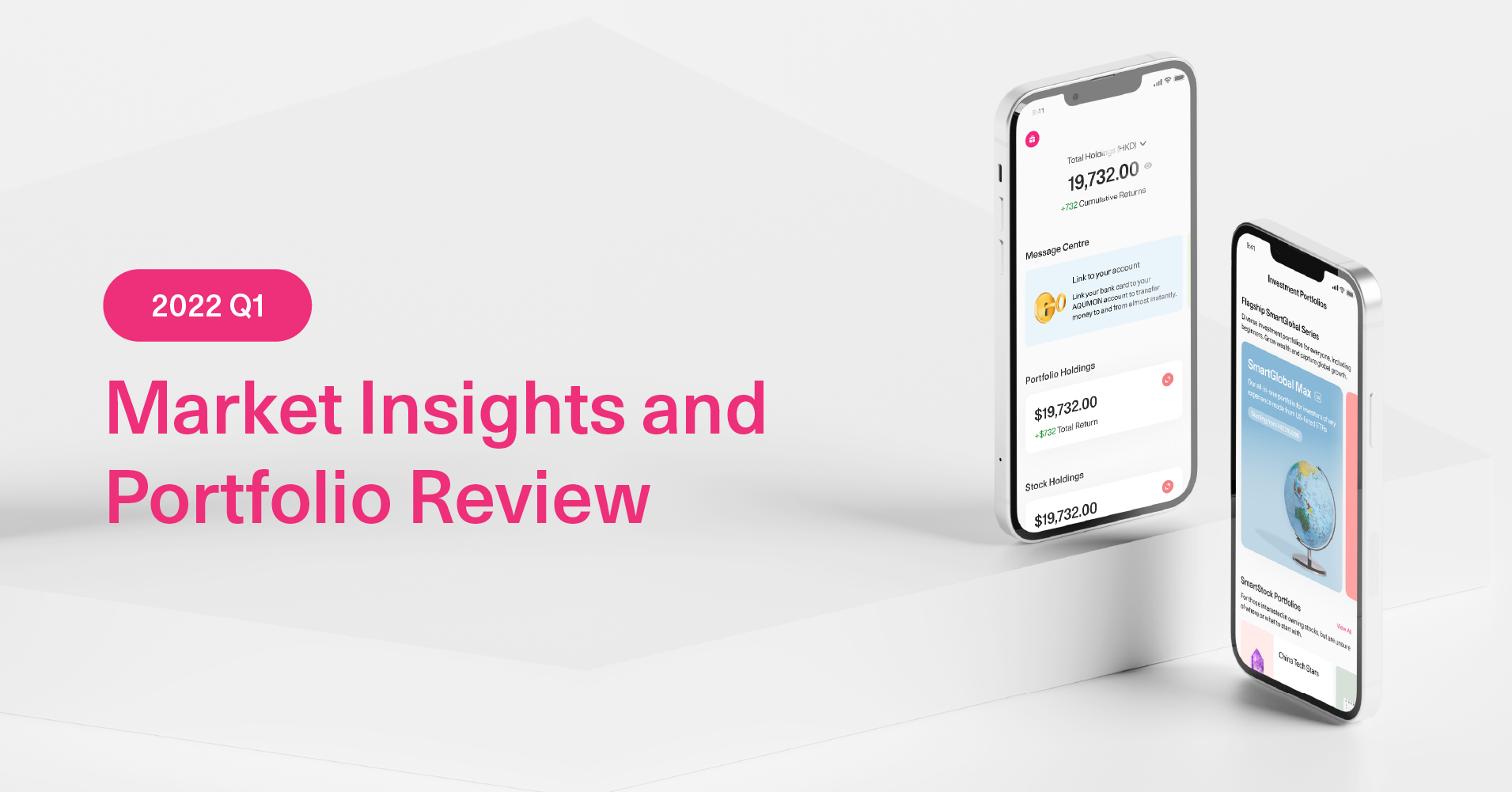 2022 Q1 Market Insights and Portfolio Performance Updates
Written by AQUMON Team on 2022-04-25
If we were to name a theme for the first quarter of 2022, the title would be "volatility". 2022 was off to a rocky start with inflation, disrupted economic recovery and the trajectory of higher policy interest rates. Russia's shocking invasion of Ukraine and the unyielding lockdowns of China's major cities have disrupted any attempts at normalizing the global supply chain.
With all these factors influencing the scene, what should we expect in the coming Q2 financial markets? How should investors position their investments and capture market opportunities? Continue reading to get prepared for your investments.
2022 Q1 Key Highlights
The first quarter of 2022 was one of the most eventful and volatile periods since that of 2020, at the onset of COVID-19. There were several key events that led to tumultuous market conditions:
1. Inflation in the US surged to a 40-year high, while the fear of stagflation* has started to surface.
*Stagflation: persistent high prices and high unemployment in a situation where an economy faces stagnant demand.
2. The US Fed hiked in Jan and shifted up the rate hike timetable in hopes to combat stiff rising prices. This earlier-than-expected interest rate means shrinking liquidity flows that will impact growth-oriented and high valuation stocks such as the technology sector.
3. Geopolitical concerns added to market volatility as Russian troops marched into Ukraine in late February. This further fueled the surge in commodity prices, adding "oil" to the inflationary "fire" as impacts are felt all along the supply chain from energy to food and agriculture.
4. Sanctions have started to pile up on Russia from the Western world, it is currently the most sanctioned country in the world, more than doubling the 2,608 sanctions imposed on Syria. Inevitably such actions will continue to hinder growth for all economies involved.
Global Markets at a Glance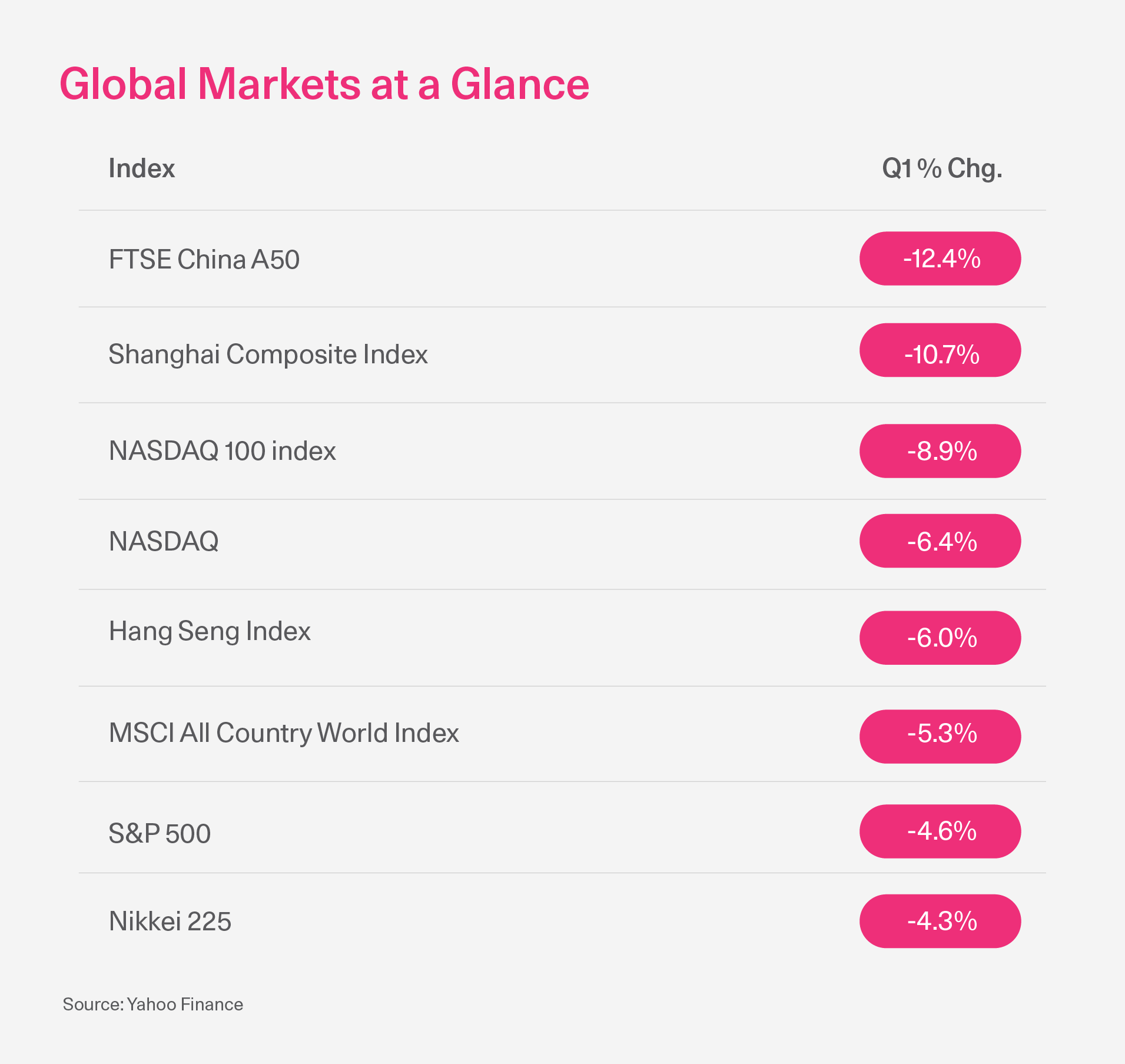 How did AQUMON's Portfolios Perform?
With a view of the wider macro-economic backdrop, let's have a look at the performance of AQUMON's portfolios this quarter:
Flagship ETF Portfolios - Globally Diversified
Based on our proprietary global asset allocation strategy, we help clients maximize their returns while diversifying risks across different asset classes. AQUMON's flagship ETF portfolio series - SmartGlobal (invest in HK ETF) and SmartGlobal Max (invest in US ETF) had demonstrated strong resilient capabilities amidst market volatility. Both series had outperformed benchmarks with +0.12% to +4.46% differences in returns.
What is Expected for 2022 Q2?
As we begin Q2, continuing uncertainty is the main theme. Despite a weakening Covid-19 situation, the tri-factor of inflation, interest rate hike(s), and geopolitical conflict are still very much at play, which can mean more volatility in the markets. We foresee upcoming trends to still affect investments:
1. Inflation will linger especially on commodities with the Russia-Ukraine conflict not seeing an end so far. Global food shortage is literally on our doorstep as supplies of fertilizer to tractor-fueling diesel in the world's agricultural industry are in short supply. Global food prices have surged 75% since mid-2020 and are expected to keep climbing. This will keep the Fed on its feet regarding the "rapid" rate hike cycle as indicated by Chairman Powell back in March.
2. European countries looking to be more energy independent from Russian natural gas could undermine economic growth even after the fighting is done in Ukraine.
3. COVID is facing another resurgence in China, as Shanghai's latest outbreak has put a grinding halt to the country's financial capital. This will continue to send more shock waves to markets and contribute to the worsening supply issues, if not globally, then at least within the region.
How should Investors Adjust their Asset Allocation?
Given the uncertainties lurking around, investors should look to solidify their defensive positioning by focusing on stable return vehicles. The best way to weather turbulence is through diversification.
1. Drive up diversification on different aspects of the portfolio in asset class, geographic location & sector.
2. Remain relatively conservative while finding ways to enhance portfolio's sharpe ratio*.
*One of the widely used methods for calculating risk-adjusted returns. The higher the ratio, the greater the investment return relative to the amount of risk taken, and thus, the better the investment.
Hyper-personalized Investment Solutions - AQUMON Bespoke
Markets are volatile with different unexpected events. It is often difficult to monitor the markets closely as a working individual. AQUMON is here to do all the hard-lifting and help you maximize your risk-adjusted returns through technology. With our proprietary SmartAdvice system, an intelligent investment advisory system, we are able to offer accessible, hyper-personalized, and scientific wealth management services to you.
Upon understanding your current holdings, investment preferences and risk profiles, we will recommend a systematic and tailored investment plan for you. Schedule a free consultation with our professional wealth management team today.
About us
AQUMON is a Hong Kong based award-winning financial technology company. Our mission is to leverage smart technology to make next-generation investment services affordable, transparent and accessible to both institutional clients and the general public. Through its proprietary algorithms and scalable, technical infrastructure, AQUMON's automated platform empowers anyone to invest and maximise their returns. AQUMON has partnered with more than 100 financial institutions in Hong Kong and beyond, including AIA, CMB Wing Lung Bank, ChinaAMC, and Guangzhou Rural Commercial Bank. Hong Kong University of Science and Technology, the Alibaba Entrepreneurs Fund, affiliate of BOC International Holdings Limited, Zheng He Capital Management and Cyberport are among AQUMON's investors.
The brand is held under Magnum Research Limited and is licensed with Type 1, 4 and 9 under the Securities and Futures Commission (SFC) of Hong Kong. AQUMON is also licensed by the U.S. Securities and Exchange Commission (SEC) and the Asset Management Association of China (AMAC).
Disclaimer
Viewers should note that the views and opinions expressed in this material do not necessarily represent those of Magnum Research Group and its founders and employees. Magnum Research Group does not provide any representation or warranty, whether express or implied in the material, in relation to the accuracy, completeness or reliability of the information contained herein nor is it intended to be a complete statement or summary of the financial markets or developments referred to in this material. This material is presented solely for informational and educational purposes and has not been prepared with regard to the specific investment objectives, financial situation or particular needs of any specific recipient. Viewers should not construe the contents of this material as legal, tax, accounting, regulatory or other specialist of technical advice or services or investment advice or a personal recommendation. It should not be regarded by viewers as a substitute for the exercise of their own judgement. Viewers should always seek expert advice to aid decision on whether or not to use the product presented in the marketing material. This material does not constitute a solicitation, offer, or invitation to any person to invest in the intellectual property products of Magnum Research Group, nor does it constitute a solicitation, offer, or invitation to any person who resides in the jurisdiction where the local securities law prohibits such offer. Investment involves risk. The value of investments and its returns may go up and down and cannot be guaranteed. Investors may not be able to recover the original investment amount. Changes in exchange rates may also result in an increase or decrease in the value of investments. Any investment performance information presented is for demonstration purposes only and is no indication of future returns. Any opinions expressed in this material may differ or be contrary to opinions expressed by other business areas or groups of Magnum Research Limited and has not been updated. Neither Magnum Research Limited nor any of its founders, directors, officers, employees or agents accepts any liability for any loss or damage arising out of the use of all or any part of this material or reliance upon any information contained herein.