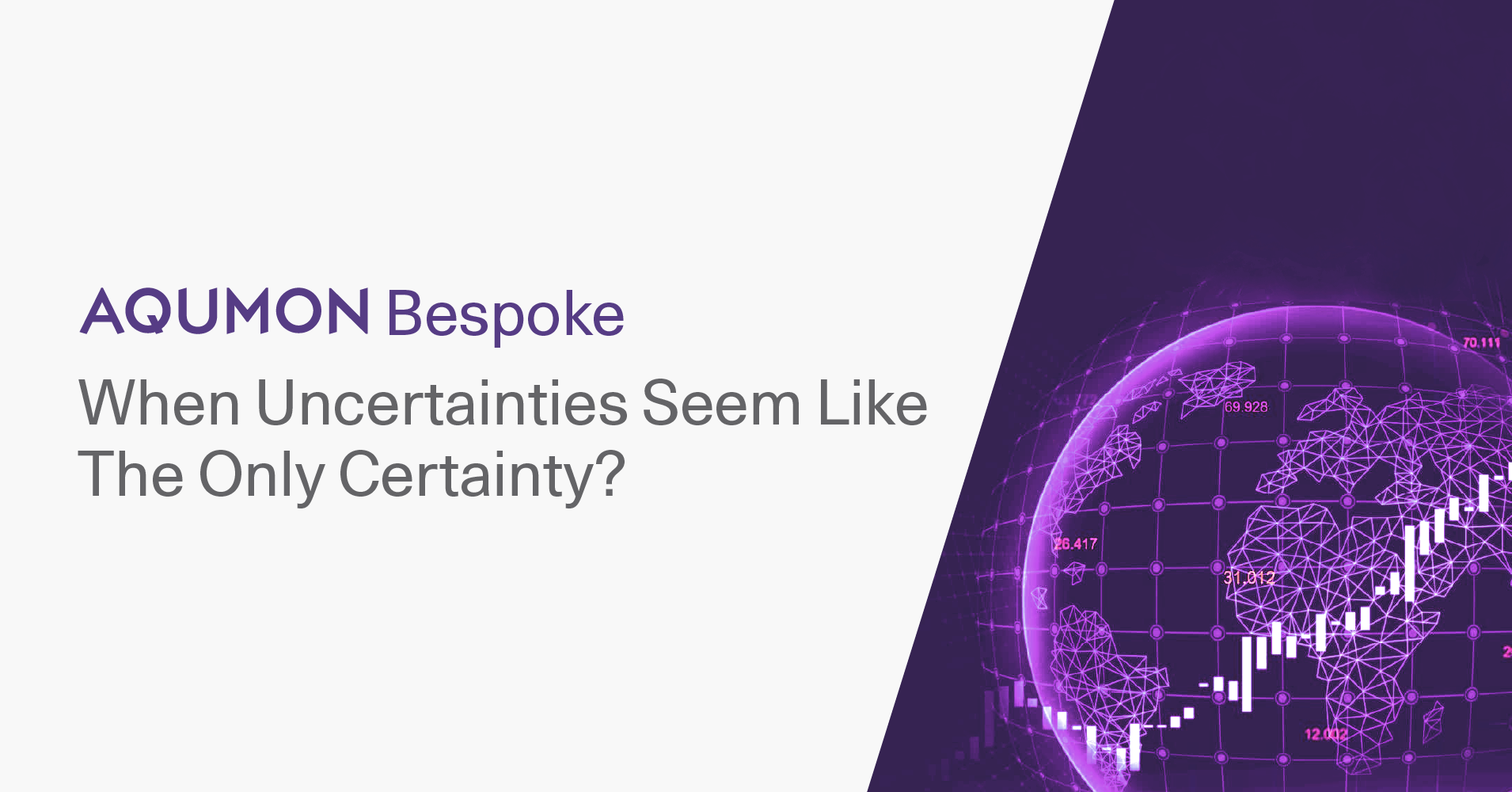 When Uncertainties Seem Like The Only Certainty?
Written by AQUMON Team on 2022-06-27
How AQUMON Can Help?
AQUMON has been focusing squarely on AI & Quant-driven asset allocation strategies in the past 6 years. Our accumulated know-how in the industry is taking the Nobel-winning Markowitz Portfolio Theory to a whole new altitude with the superb risk-adjusted return at different volatilities.
Inspired by the Black-Litterman Model, AQUMON's proprietary AI Macro engine provides a near-term view on asset class performance, serving as the first step of the allocation path. Next up, our unique quantitative models on country momentum, sector & thematic plus security rotations come in to capture the essence in appropriating the right portions in each bucket.
This multi-asset / multi-layer approach on diversification yields better navigation through market cycles & allows opportunities in different asset classes to be captured while their risks are managed systematically. By cocktailing various assets in a skillful manner backed by an enormous amount of data research & quantitative protocols, market fluctuations become a solvable mathematics equation here at AQUMON.
Unsettled Market Landscape- Why AQUMON Can Help Now?
With rebounding US CPI figures in May, market sentiment as tallied by Bank of America & CNN (Figure 1 & 2) is once again hovering at low levels last seen only in March of 2020, during the onset of COVID-19. Reflecting investors' perception on increasing downside risk in the US economy & their worries that the Fed will have to sacrifice growth in favor of containing inflation, a task it has yet to accomplish.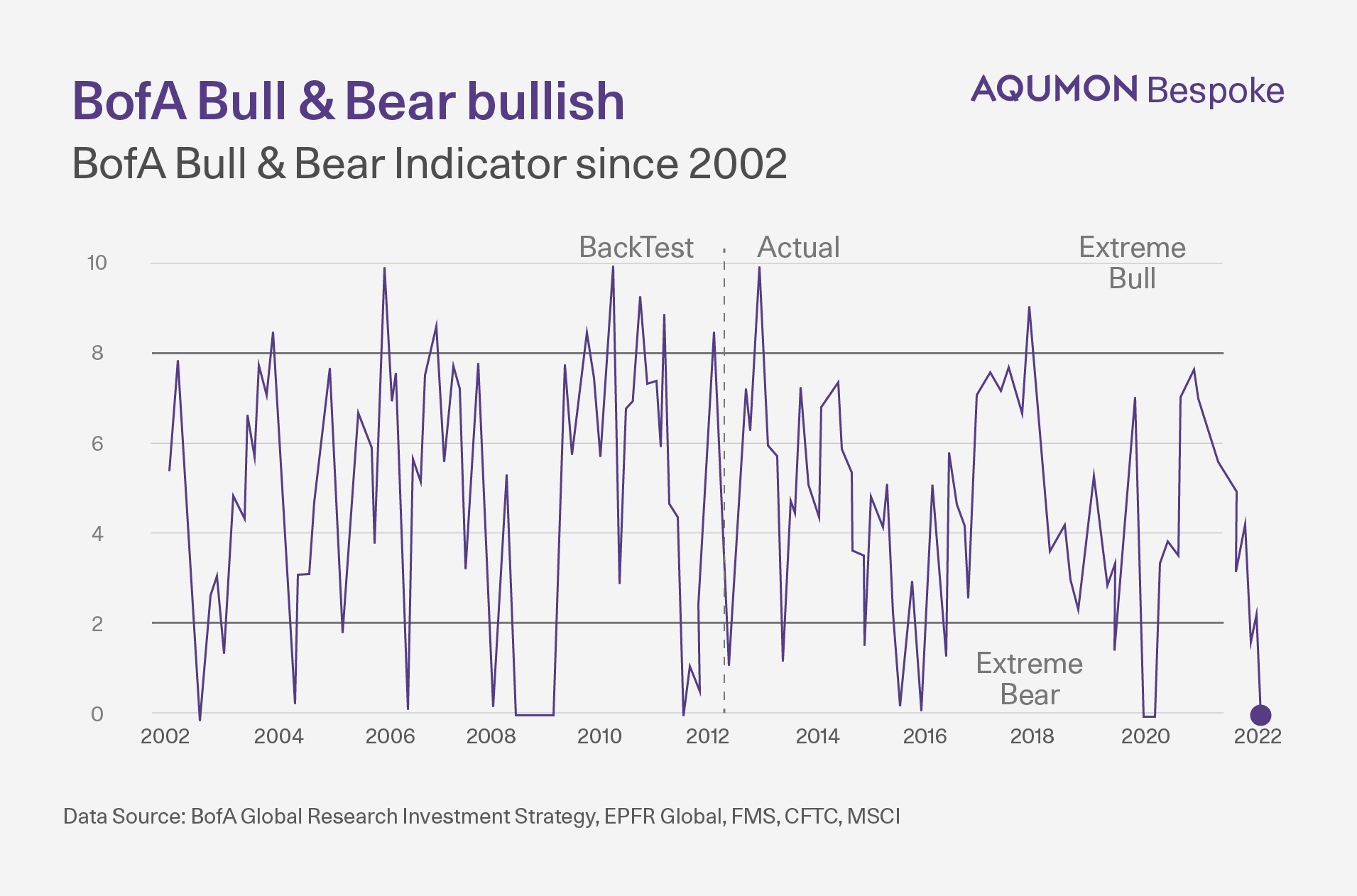 Figure 1 - BofA Research Bull & Bear Indicator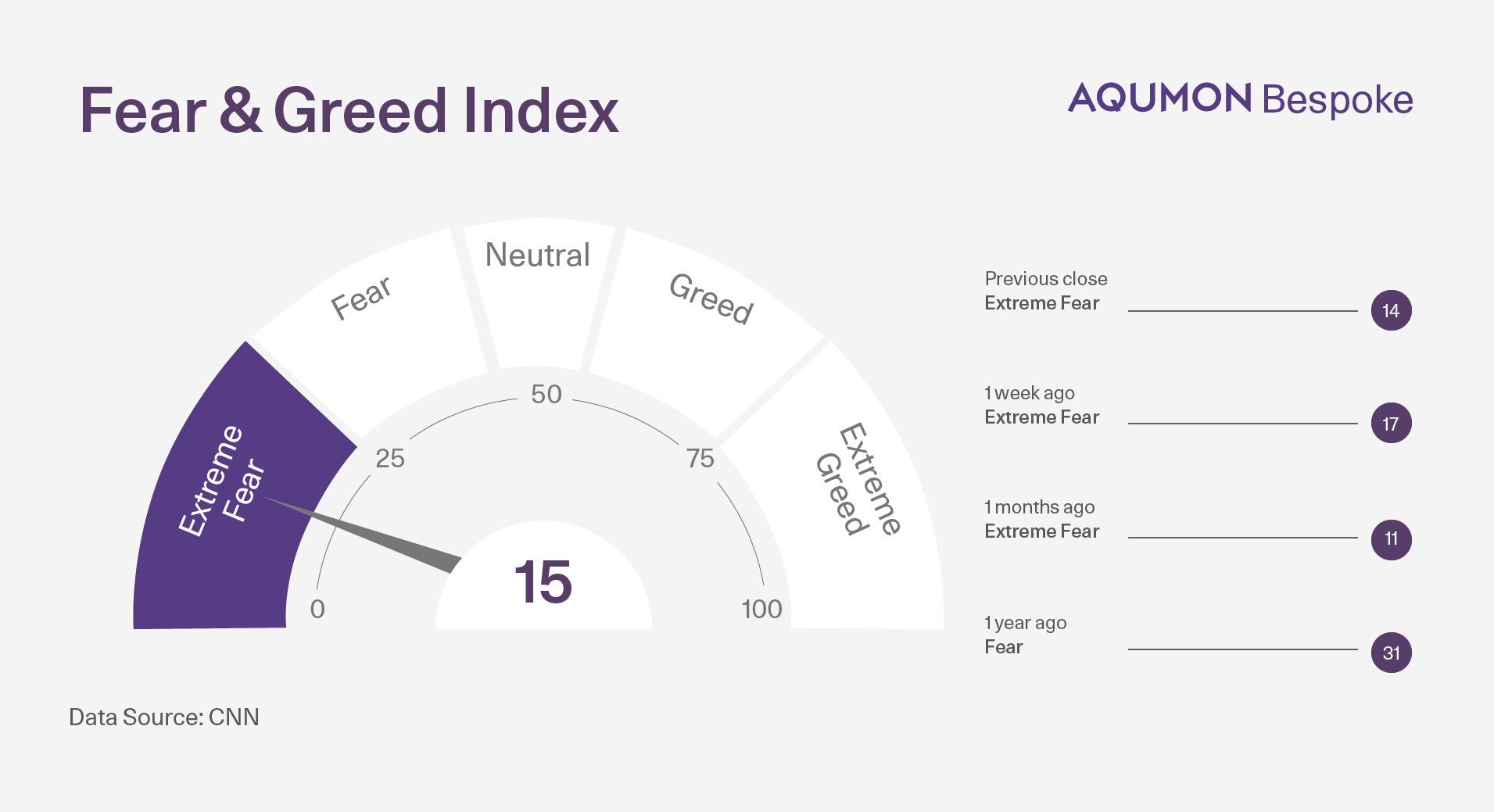 Figure 2 - Fear and Greed Index
In fact, since the arrival of Covid-19, economic weakness & rising prices showed no signs of retrieval & combined with ongoing supply chain disruptions among other recovery potholes, uncertainties are almost a certainty in the last 2 plus years. Figures 3 & 4 below showed inflation pulls up (pink) as GDP drops (purple) while market volatility (purple) climbs to be contrasted by a rocky descent in Equities (pink).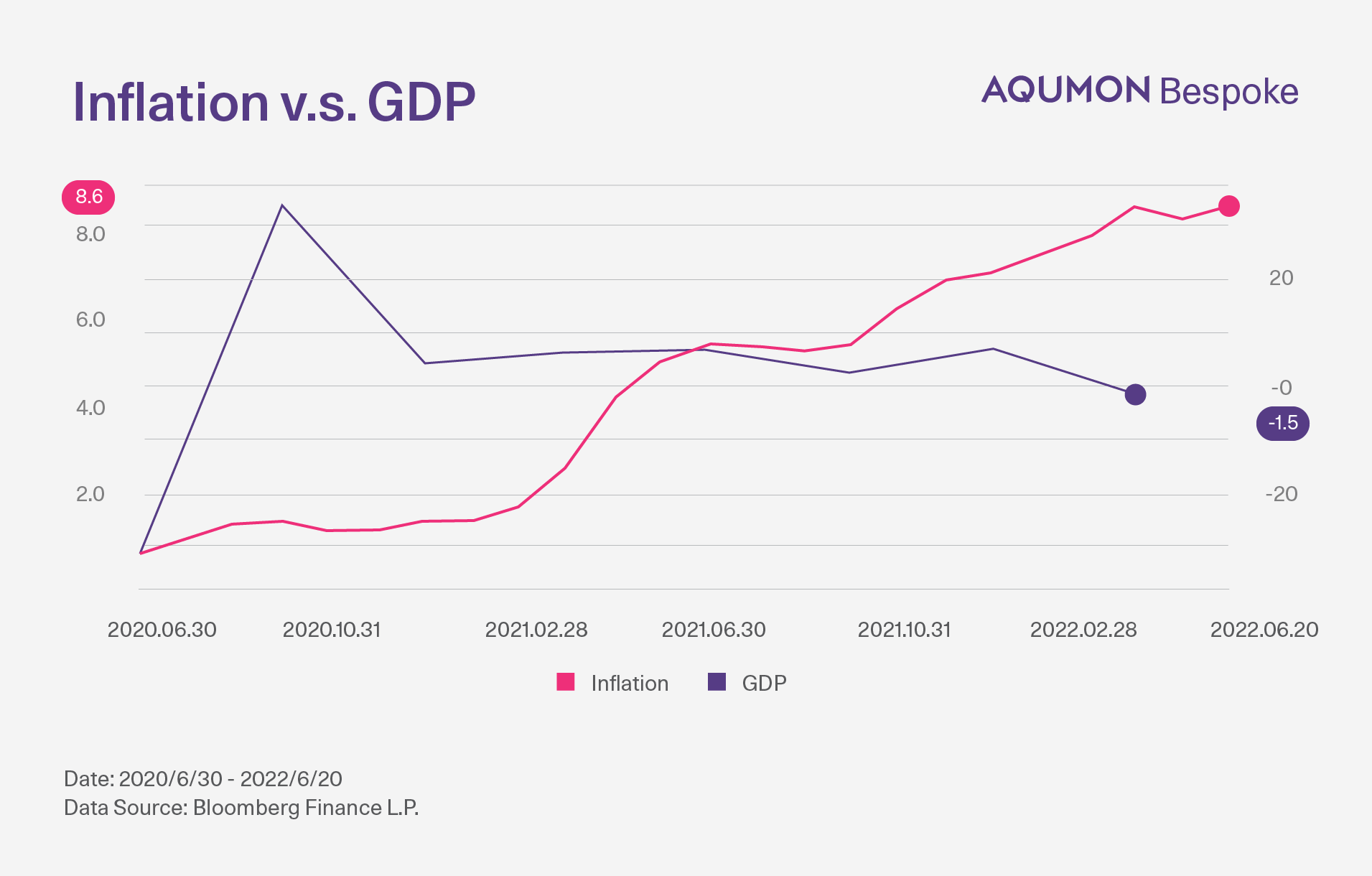 Figure 3 - Inflation vs. GDP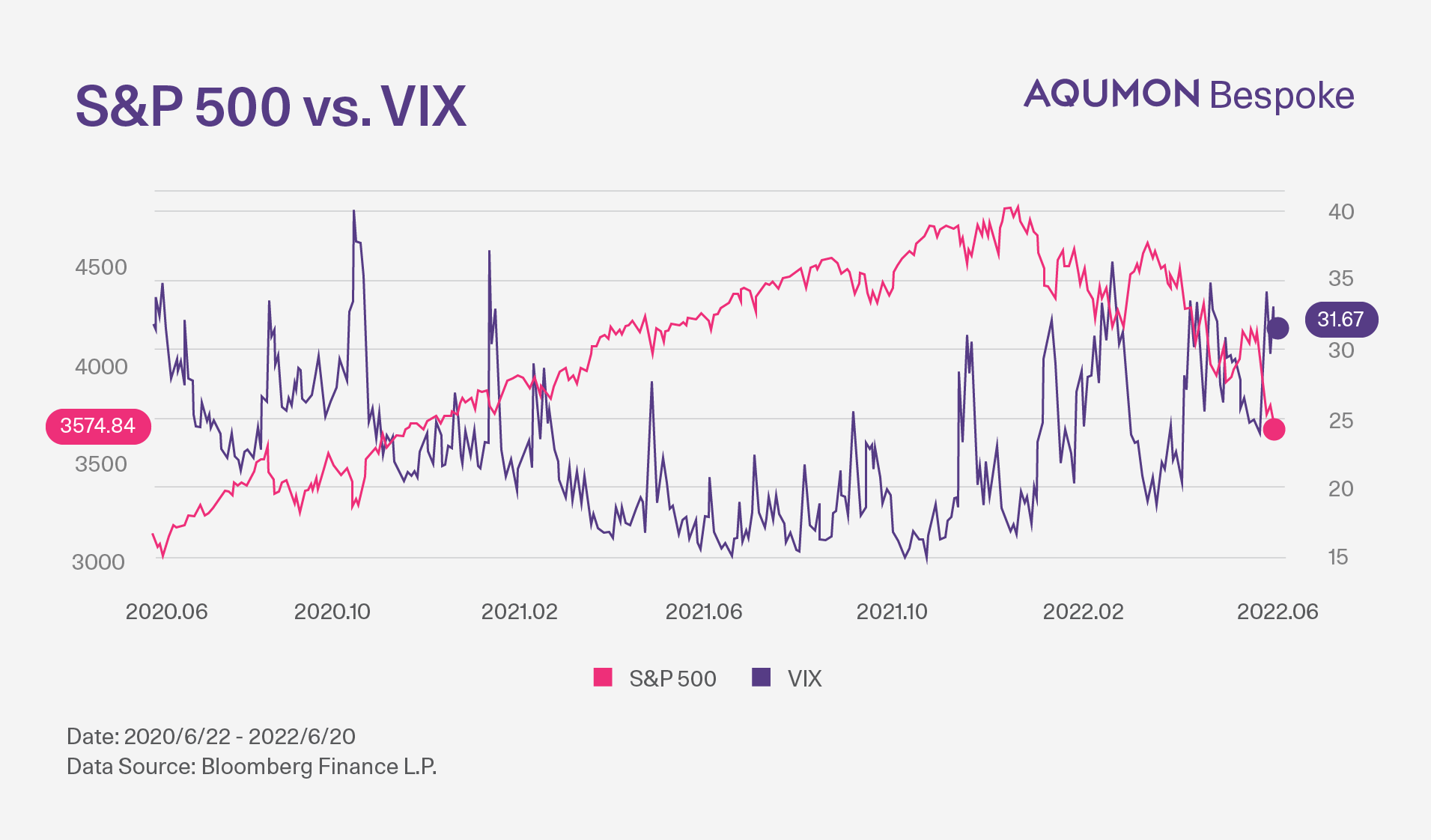 Figure 4 - S&P500 vs. VIX
On the contrary, in China, with Shanghai's city-wide lock-down over, authorities are busy baking economic stimuli to go along with an easing monetary stance to boost growth; How would such opposite economic forces in the world's 2 largest economies play out? How would the results ripple through to other economies? And last but not least, how would portfolios around the world be affected & how should investors strengthen their portfolios accordingly?
Schedule a Consultation Today
A multi-asset portfolio with global exposure carrying a dynamic allocation pertaining to underlying economic growth could potentially offset current market turmoil, if a systematic approach is there to afford the right asset mix plus proper ongoing refinements. Schedule a free consultation with us to learn more about AQUMON's market-adapting solutions.
You may also contact us via 2155 2816, WhatsApp, or email bespoke@aqumon.com
Additional Reads
About us
AQUMON is a leading financial technology company based in Hong Kong. Our mission is to leverage technology to make next-generation investment services smarter, simpler, and more accessible to investors. Through proprietary algorithms and scalable, technical infrastructure, AQUMON empowers anyone to invest and maximise their returns. AQUMON was rated by KPMG as China's Top 50 Fintech company and has partnered with over 150 financial institutions including AIA, China Merchants Wing Lung Bank, Bank of China International, China Resources Bank, CITIC Securities, ICBC (Asia), etc. AQUMON is developed by Magnum Research Limited which is licensed by the Securities and Futures Commission of Hong Kong to carry on Type 1 (dealing in securities), Type 4 (advising on securities), and Type 9 (asset management) regulated activities.